I had the pleasure of cutting the ribbon on the new Iron Construction building in Moffett Park today, and I was pleasantly surprised by the facility. It isn't often that a ribbon-cutting catches me off-guard, but this one did. Moffett Park has a LEED Silver requirement, and the owners went to LEED Gold, which is nice, but they didn't stop there.
First, one introductory note. The company's name, Iron Construction, doesn't come from the nature of their work. It comes from the names of the company's two founders, who have the initials 'F' and 'E'. FE is the periodic table symbol for iron.
They gave me a tour of the facility to show off everything that they did, and it's really impressive. This is a standard tilt-up manufacturing building that has been repurposed as office space. We see businesses buying up tilt-ups all the time, and the normal approach nowadays is to scrape and replace the building. But Iron Construction didn't do that. They consciously made the decision to do extensive retrofits to turn the existing building into office space that isn't just functional, but is sustainable, and is a space that employees will want to spend there time within. And their efforts really deserve to be called out.
The first thing that someone experienced with office buildings notices is the amount of material reuse that was done when building the new space. It's everywhere. Electrical work, decoration, all of the woodwork, it's all done out of reused construction materials. It's clear that someone made a conscious effort before the stripping of the building to look everything over and think about how materials could be reused. And this isn't a trivial thing – a huge percentage of Sunnyvale's solid waste stream is from construction waste. We emphasize reuse of construction materials as much as possible, and the owners went well beyond what even we require. An example is the benches outside, next to the employee garden: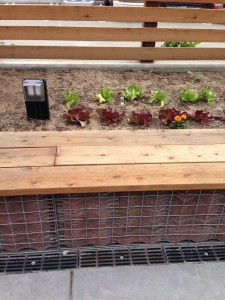 Note the material under the benches behind the mesh? Those are stacked roof tiles. And you see this attention to detail everywhere. The compost bins are made from old roofing material, as is a lot of the decorative wordwork throughout the building. Rather than installing new flooring, the existing concrete was smoothed and then polished. Electrical fixtures were reused, and the entire complex is littered with decorative and functional woodwork and metalwork from the previous industrial use.
The exterior includes the employee gardens pictured above, which currently features lettuce, tomatoes, a series of fruit trees, and even blueberries: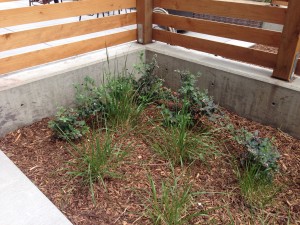 And the entire building is extremely energy efficient. The owners installed a geothermal loop throughout the building, eliminating the need for an expensive HVAC system on the roof, and allowing the owners to avoid an expensive roof retrofit. The geothermal piping extends down 50 or 60′, and it takes advantage of the temperature differential to generate heat and turn the heat into energy. The geothermal heating system generates sufficient heat and energy to control the building's temperature, to provide radiant heating to the outdoors patio, and to heat more than enough water for the entire building's use, including men's and women's shower and a beautiful employee kitchen: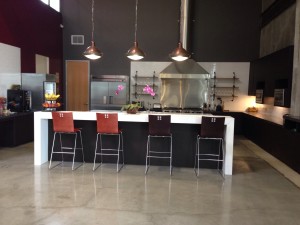 The geothermal system is unusual for this area. I know there are some residences that have installed geothermal systems, but there tends to be resistance due to the concerns of land shifting due to earthquakes. But the owners of Iron Construction were pretty dismissive of those concerns, saying the piping is flexible PEV pipes that can easily accommodate shifting land, and revealing that the land out in Moffett Park is ideally suited for geothermal systems.
The building is dog-friendly, and employees are allowed to bring dogs to work – provided they're people-friendly and house-broken. There is an outside area for dogs to do their business, including a real but non-functional fire hydrant, fake grass, and a composting bin with an enzyme system for breaking down the waste: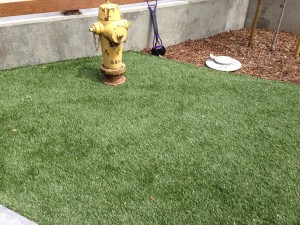 The white cylinder is the waste composting.
The owners actually had a little difficult with the zero waste designs, because they have no need for trash pickups, but state law requires the city to pick up trash every other week anyway, and city ordinances require a trash enclosure regardless. This is something that cities don't handle very well – the notion of a business that generates no trash (which is a really nice problem to have). We reached a compromise solution that seems to be satisfactory to everyone.
The building includes new skylights to take advantage of natural lighting, and the skylights double as a gravity ventilation/cooling system (translation: roof windows that automatically open) that kicks in when indoor CO2 levels exceed certain levels or when the indoor/outdoor temperatures exceed certain thresholds.
The space has been retrofitted from manufacturing to office space with additional amenities. It includes a small employee gym on-site: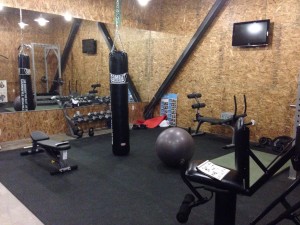 The office space is deliberately designed to be open, without walled offices, except for a couple of conference rooms and secure areas for HR and accounting record-keeping.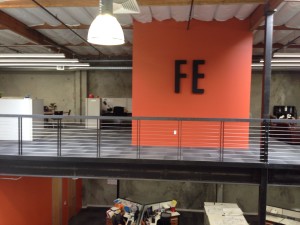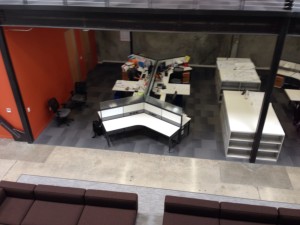 The owners are interested in making their kitchen and facilities available to anyone looking to rent space for a catered event, and it's an extremely nice kitchen setup.
This was a really impressive facility to tour, and it shows what's possible when a business commits to sustainable practices and a little out-of-the-box thinking. And it's a great alternative for small to medium-sized businesses that are looking to take advantage of a tilt-up instead of building from scratch. I love the thought process and commitment that Iron Construction brought to their new home in Sunnyvale. I hope this becomes a showpiece for start-ups, and I hope that Iron Construction can leverage this into opportunities to help other companies do similar retrofits. If companies are interested in taking advantage of Iron Construction's experience, I'd encourage you to get in touch with them, just to see what's possible.
And the owners were highly complimentary of Sunnyvale's permitting and inspection services – they found us much easier to work with than other cities that they've dealt with. That's a point of pride for us.